Israeli Special Forces Glossary Guide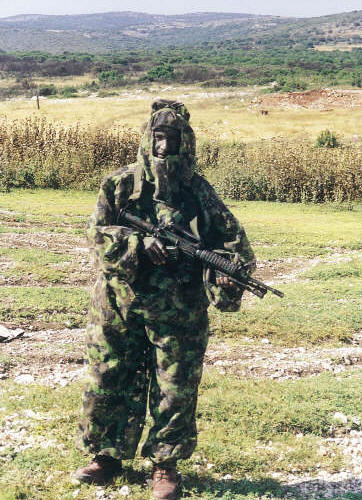 The following are commonly used terminology in isayeret.
AGM - Air Ground Missile
AO - Area of Operation
ATGM - Anti Tank Guided Missile
APC - Armored Personal Carrier
ATV - All Terrain Vehicles
AN/PVS - Army/Navy Passive Vision System
BUIS - Back Up Iron Sights
CAR15 - the carbine version of the M16A1
CO - Commanding Officer
Colt Commando - fixed loop M16A2 11.5 inch carbine
C4I - Command, Control, Communications, Computers and Intelligence
CQB - Close Quarters Battle
CT - Counter Terror
CSAR - Combat Search And Rescue
CID - Combat Identification Device
EOD - Explosive Ordnance Disposal
FMS - Foreign Military Sales
GPS - Global Positioning System
GADSAR - Reconnaissance Battalion
HMD - Helmet/Head Mounted Display
HTI - Hard Target Interdiction
IAI - Israeli Aircraft Industries
IAF - Israeli Air Force
IDF - Israeli Defense Force
IMI - Israeli Military Industries
IWI - Israel Weapon Industries (formerly IMI Small Arms Division)
IPS - Israeli Prison Service (also known as SHABAS)
ITL - International Technologies Lasers
IR - Infra Red
IED - Improvised Explosive Device
KAC - Knight Armament Company
LBH - Load Bearing Harness
LBV - Load Bearing Vest
LIC - Low Intensity Conflict
LMG - Light Machine Gun
LRRP - Long Range Reconnaissance Patrol
LOTAR - Counter Terror
LE - Law Enforcement
M4 - fixed loop M16A2 14.5 inch carbine
M4A1 - flattop M16A2 14.5 inch carbine
M4 Commando - flattop M16A2 11.5 inch carbine
MAGAV - Israeli Border Guard
Maslul - IDF training regime
MATKAL - General Staff (the IDF High Command)
Mekut'zar - IDF slang for the CAR15
Mekut'zrar - IDF slang for sawed-off carbines (CAR15, M4, M4A1). Referred to in isayeret as "Shorty"
Mossad - Israel foreign intelligence gathering organization
MoD - Ministry of Defense
NBC - Nuclear Biological Chemical
NCO - Non Commissioned Officer
NVD - Night Vision Device
NVG - Night Vision Goggles
PDW - Personal Defense Weapon
PALSAR - Reconnaissance Company
SAR - Search And Rescue
SAM - Surface Air Missile
SF - Special Forces
SHABACH - Israeli General Security Service
SHABAS - Israeli Prison Service
SMG - Sub Machine Gun
SWAT - Special Weapons And Tactics
SWS - Sniper Weapon System
Shorty - isayeret terminology for "Mekut'zrar"
TAS - Target Acquisition System
T&E - Testing & Evaluation
UAV - Unmanned Aerial Vehicle
UGV - Unmanned Ground Vehicle
UNS - Universal Night Sight
XO - Executive Officer (second in command)